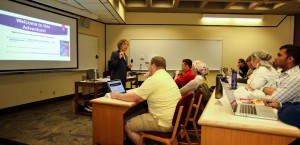 Sandra began teaching a course in Fall 2015 that she developed at the request of Willamette University's Atkinson Graduate School of Management. The course is called, "Enterprise Risk Reduction for Sustainable Growth".
Teaching has been a lifelong dream but Sandra never thought it would happen. As a result of her new Book, The DNA of the Resilient Organization, the dream has come true. The course mirrors and expands the Book's theme of combining risk management and organization development tools and approaches to achieve resilience. That's the only way to effectively build resilience in this rapid-paced, constantly changing world.
The 2nd year graduate course defines and describes Organizational Resilience – strength in adversity and the ability to bounce back in difficult situations. Resilience is the goal of all risk management tools, processes, systems and structures. Resilience also enables sustainable growth through the embedded ability to respond to opportunities while minimizing risk of failure.
The process to achieving greater resilience is simple but iterative and constant, using every change project to define and assess related risk and to develop solutions that improve and embed greater resilience. This process builds group wisdom and organizational strength; together they build unity. Greater unity = greater resilience.
Sandra is especially excited because she will teach at Willamette University, at its Atkinson Graduate School of Management. Bloomberg Businessweek's 2014 business school rankings named Willamette's MBA program a "top business school." The Willamette MBA is the only program listed in Oregon and one of only two in the Pacific Northwest. The Willamette MBA program is also one of only two MBA programs in the world to achieve dual top-level accreditation in both Business and Public Administration.
On almost every change project, the leader who hires Sandra asks that she also coach a promising leader as part of the project. Now she can help many more people and organizations through teaching graduate students who will become strong, knowledgeable leaders!
For more information:  Sandra's Willamette University Faculty Page