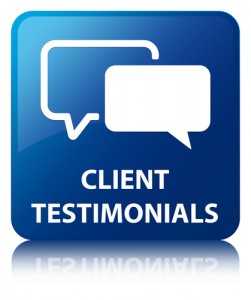 Our clients span industries, sizes & structures: for-profit, government, and not-for-profit. What they share is a desire for making beneficial, lasting, and effective changes that will improve their companies' profitability, of course, but also improve their position for the future and make it a better environment for their people and their stakeholders – to make a greater, more positive impact on the world.
Here is how past clients describe our approach and skills in helping to rapidly and effectively accomplish change:
"In my good friend Sandra Suran's book The DNA of the Resilient Organization she describes how resilience and sustainable growth within an organization are built from the core. With each problem that is solved or new opportunity that is seized and accomplished, the organization's core becomes stronger.
In Dr. Seligman's words, Sandra Suran's book, and Eric Greitens's book, the message is unanimous: If we deal with our problems and struggles correctly, they make us not only stronger individuals but stronger organizations. We must learn to honor the struggle because it is part of our journey as individuals and organizations and necessary for real growth."  
Click here to see Gary Furr's Blog on Resilience.
Gary Furr, Gary Furr, LLC, Organizational Development Consultant
*****************************
"As a consultant, Sandra Suran demonstrates a unique ability to cut to the chase and find the essential core of an issue. She gives our staff additional tools to systematically develop processes and procedures that clarify accountability and responsibility. In the way she challenges us to look at how we define problems, and the manner in which she keeps us engaged, on task, and accountable for the development and implementation of solutions, Sandra ensures that improved performance will endure long after her current consulting assignment is done." 
Noel Klein, former Executive Director, City County Insurance Services, a member owned cooperative that competes with private insurers for local government business in Oregon
*****************************
"Sandra brings strategic thinking and expertise to bear in a thoughtful and insightful process enhanced by her communication skills."
Bruce Kerr, Founder and former Managing Partner, The Partners Group – financial advisors and risk management service providers to health care industry.
 *****************************
"I have known Sandra for over 20 years, both as a consultant and a mentor. As a consultant she does an outstanding job of first understanding the issues that are impacting her clients and then will develop a plan and fix the identified issues. She is quick to recognize when she needs to add others to a project team when she personally does not have a needed skill. When I decided to pursue consulting as a career Sandra was a mentor for me during my transition time from corporate to the consulting world. She taught me the real value of time and how to transfer my skills from the corporate environment to consulting.
Bob Phillips, President and CEO, RW & Associates, Inc., Author, Absolute Honesty, former VP of Human Resources, Tektronix and Grass Valley Group 
 *****************************
"My firm has worked with Sandra over two generations, first with her accounting firm and then with a variety of engagements with her consulting business. Sandra is a very smart, informed advisor and has helped us over the years be the successful company that we are."
Tom Kelly, President Neil Kelly Inc. – national award winning home design/build/remodeling company in the U.S.
 *****************************
"Sandra Suran helped us through the strategic planning process and helped our rapidly growing organization to develop a new structure. She was the fifth consultant we had hired; we didn't like the others' approach; we wanted a different approach. She learned a lot about the company, really understood how it worked and kept up with issues in the company. Her level of strategic planning was high; she is more informed and current than most consultants. She got us thinking about strategic planning differently. She gave more helpful advice than other consultants."
John Limb, President OCP, largest publisher of worship music and materials in the world
 ***************************** 
"The Suran Group's flexibility and responsiveness created an environment of trust and openness. The greatest strengths were:
Ability to identify linkages between 'sub-systems'

Ability to ferret out duplication/independent systems

Communication with staff. Their effort was 'in-sync' with TriMet staff."
Neil McFarlane, current General Manager,

Tri Met

and former Executive Director,

Tri Met Light Rail
*****************************
"During her tenure as Business Consultant for the company in which I manage Marketing and Sales Development, Sandra became a valuable teacher and true mentor. She helped to instill a business savvy and maturity that has helped tremendously in the acquisition of new clients and company growth."
Kathy Toynbee, Director of Marketing and Sales Development, Caswell Sculptures
*****************************
"I'll tell you what Sandra Suran does – she makes things happen!"
Bill Reiersgaard, Founder and Chairman, Gaard Automation and Board Member, Marine Mammal Institute, Oregon State University
*****************************
"It is high time I expressed my appreciation for your outstanding organizational skills, incredible enthusiasm and inordinate amount of hard work….
….You took on a very difficult challenge, overcame some major obstacles that would have deterred most people, and molded a County Team that became willing to bypass parochial prejudices and work for the common good or the County. I am ecstatic that you have been so successful…it will only get better as more items fall into place."
Mike Hammer, Mayor, City of Granite